Hello fiends,
Want your name on our next album? Read below for more details.
I'm pleased to announce the release of our brand new shirt based off our song "The Greatest Show Unearthed". The front depicts Curtis Rx & Erik X commanding their menagerie of menacing monsters and the back depicts the parade of dancing skeletons. This shirt draws to an end the era of The Greatest Show Unearthed as we finish recording the final touches to our brand new album. As a special gift to all of you who purchase this shirt, we will print your name on our upcoming album in the "Thank You" section of the cd booklet. We have a limited amount of space and a limited time frame to get the names into the artwork before we send it off to the printers, so hurry up and get your orders in A.S.A.P. If you would like to order one of these limited edition shirts and get your name in the credits of the next Creature Feature album, please click the Paypal links below to order. There will be a box asking "What Name Would You Like Printed?", just enter your name there and you're all set. We will also send you a name confirmation e-mail so please make sure to check the e-mail address you have listed with Paypal.
Here are some larger pictures of the front and back designs: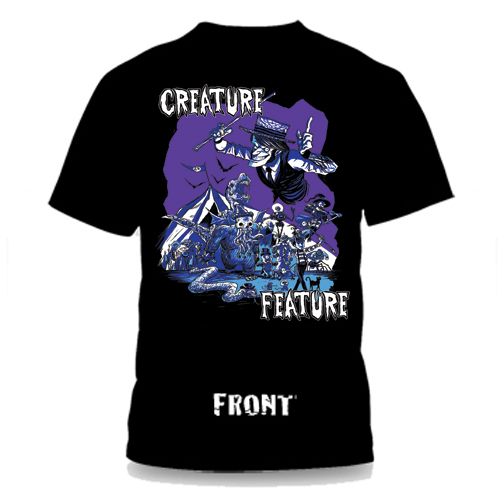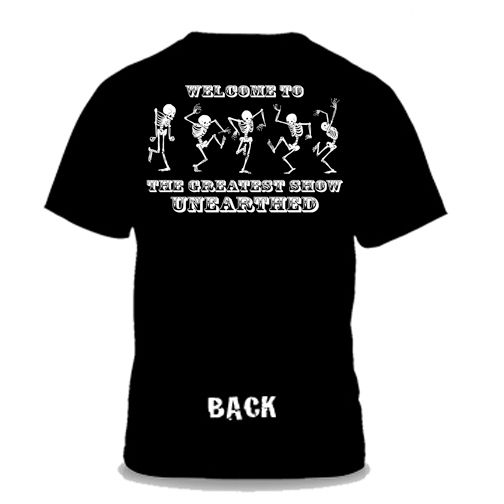 The shirt is double sided and limited to only 666 pieces. They are $19.99 (plus shipping & handling) and come in unisex sizes: (Small, Medium, Large, X-large). Click the links below to order your shirt today through Paypal directly from our official website. If the order links do not work or you would like to order through regular mail with cash, please send us an e-mail at creaturefeaturemusic@gmail.com
UPDATE: These shirts are now sold out.
Stay weird,
~Curtis Rx