Hello Fiends,
The last few days we have been in the process of moving our studio and as we cleared everything away, stumbled upon a box of rare advance cds of "The Greatest Show Unearthed" we had made long before the re-release in stores. These cds are packaged in a cardboard jacket made to look like an old record sleeve and have alternate artwork. The cd itself is also made to look and feel like an old record (grooves and all). These were limited to only a 1000 (of which only one box remains) and come hand numbered on the back cover. The track listing itself is the same as our first release and does not include the song "How To Serve Man" which was later added for re-release in stores. We thought these had entirely sold out, but turns out we had a box tucked away. We are selling these last remaining cds for $9.99 (FREE shipping & handling) and $12.00 if you live outside of the US. Check the bottom of this page for PAYPAL links and all the ordering info. Here are some photos of the alternate artwork and the cd: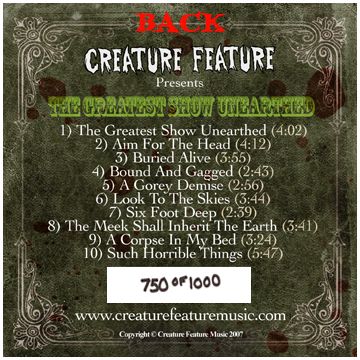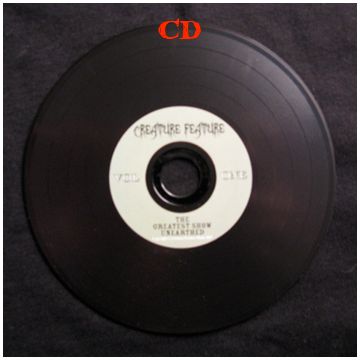 Realizing that we didn't have a contest this month, we have decided to merge both and offer something very special for all those who decide to purchase this rare advance version (since by now most of you already own the album in one form or another). For every purchase, we will put your name into a raffle to win a very special prize—our very first stage outfits: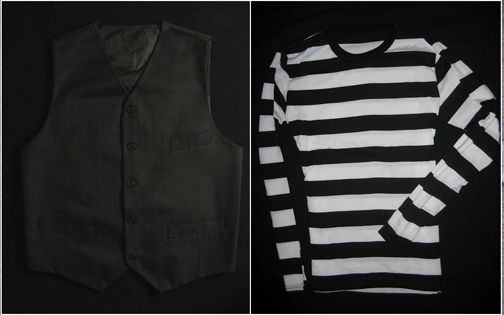 On "Dia De Los Muertos" November 2nd, we will put all the names into a hat and pick one lucky winner, who will become their proud new owner.
Also, every CD sold counts as a separate entry into the drawing, so if you buy more than one, each individual cd counts as another chance to win in the drawing.
I will announce the winner on my personal twitter page http://twitter.com/CurtisRx @ 8PM Pacific Time.
Click the links below to order through PAYPAL. If the order links do not work or you would like to order through regular mail with cash, please send us an e-mail at creaturefeaturemusic@gmail.com
Click Here To Order Within The US
Click Here To Order Outside The US
Get yours today while supplies last for your chance to win!
Thanks for your time and I hope all is well,
~Curtis Rx